WORLD SOUND MIX for BankART LIFE3 (2011)
Exhibition:
"Shin Minatomura - A Small City for the Future"
6.Aug.2011 thru 6.Nov 2011
Opening Hours: 11:30 to 19:00 with the exception of Friday when it will remain open until 21:00
Location: Shinko Pier, Yokohama-shi, Naka-ku, Shin-Minato 2-5
>> http://shinminatomura.com/
About the work:
"World Sound Mix for BankART LIFE3" is a sound visual installation, generating new soundscape around the world. This work continues mixing the sounds at selected two points somewhere in the world from the database of huge quantities of environment sounds and generating new soundscape.
For this exhibition, we set up a magic box that resonates mixed soundscape in Sapporo and somewhere in the world. During the exhibition, a globe in the box keeps turning and resonating sounds in real time.
The logs of sound trip experienced with visitors to the exhibition will continue to be recorded during the whole period of the exhibition. The record of sound trip will be released as a new content on this page as interactive application.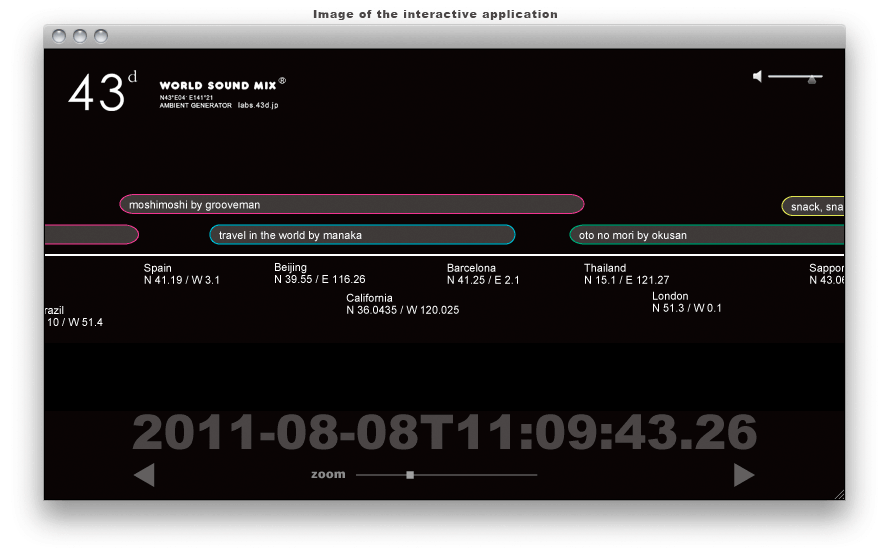 ---
About sounds data:
World Sound Mix is based on a sound database from Freesound project, its sounds have been recorded and gathered by sound hunters around the world. The use of sound data is under the CreativeCommons Sampling+ 1.0 License. By the username and "freesound sound ID" shown on the globe, listener can refer to original content.